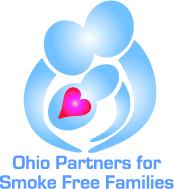 ---
The Ohio Partners for Smoke Free Families (SFF) Quality Improvement (QI) Project aims to improve quality in the implementation of the 5A's counseling intervention:
ASK… the patient about current smoking status
ADVISE… the patient to quit and provide information on benefits of quitting
ASSESS… the willingness to quit
ASSIST… with finding resources and making a plan to quit
ARRANGE… for follow-ups to help the patient follow through with the plan
In Ohio the rate of prenatal smoking is estimated to be nearly 20 percent (1) . Tobacco use during pregnancy has numerous harmful health effects for both the mother and baby, including low birth weight, stillbirths, and developmental delays later in the child's life (2). Given the physical and financial burden incurred as a result of tobacco smoking during pregnancy, it is essential to provide women with the necessary resources to quit smoking before, during, and after pregnancy.
Quality Improvement Specialists from The Ohio Colleges of Medicine Government Resource Center (GRC) will utilize a modified version of the Institute for Healthcare Improvement's (IHI's) Breakthrough Series Model for Improvement. The project will provide clinicians and other trained personnel with effective QI strategies, tools, and guidance to adopt the 5A's brief counseling intervention. Additionally, the project team will work with sites to identify potential barriers for providing the 5A's to women of childbearing age and support action toward removing those barriers.
The project is funded by the Ohio Department of Health and includes the following clinical experts: 
1. Dr. Amy Ferketich, PhD, Associate Professor for the College of Public Health at The Ohio State University and Leader of Project 1 of the Center of Excellence in Regulatory Tobacco Science Epidemiology 
2. Dr. Thomas Houston, MD, Adjunct Professor for the Department of Family Medicine and Clinical Professor for the College of Public Health at The Ohio State University 
3. Dr. Heather Frey, MD, Assistant Clinical Professor, Maternal and Fetal Medicine, The Ohio State University
1. Adams EC. (2004). Smoking Among Medicaid Insured Mothers: What are the Neonatal Expenses? Health Care Financing Review, 26(2),105.
2. American College of Obstetricians and Gynecologists. (2010) Smoking cessation during pregnancy. Committee Opinion No. 471. Obstetrics and Gynecology 116:1241–4.