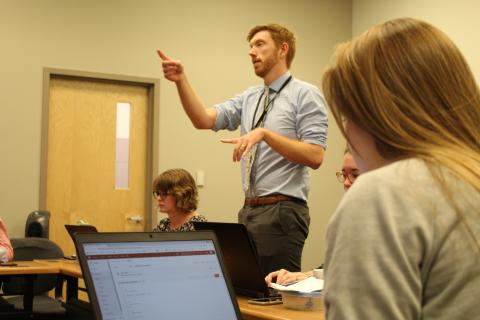 ---
At GRC, we believe collaboration is essential to delivering results you can trust. In fact, it's who we are. We partner with six state agencies, seven state colleges of medicine and over 270 academic experts to drive innovation in data science.

That's why we're strengthening our efficiency in collaboration by expanding Git to our research team, state partners and Ohio's colleges of medicine.

Git, a version-control system which tracks changes in source code, allows GRC research staff to code collaboratively along with state agency and academic partners.

Though Git is a well-established program considered by some to be an industry best practice, GRC's Git lead, Research Scientist Dr. Robert Ashmead, sees an opportunity for wider use among research partners and staff.

"Git will allow GRC research staff to trial new coding methods and techniques, creating new code branches in order to find the best results. At the same time, the program ensures version control as all code variations merge back to the main code branch," said Ashmead.

Dr. Ashmead is conducting Git trainings for faculty and staff, hoping its increased use will benefit GRC's dashboard specific work, including the Ohio Medicaid Assessment Survey, Infant Mortality Research Partnership, and Ohio Pregnancy Assessment Survey.