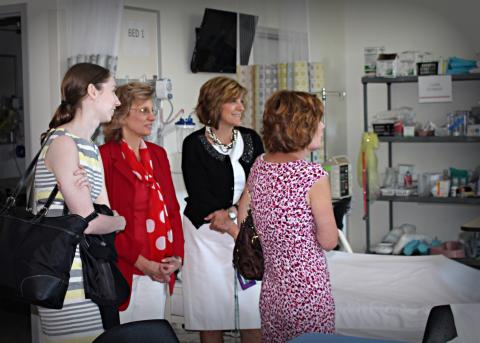 ---
The Government Resource Center (GRC) launched the MEDTAPP Healthcare Access Initiative (HCA) statewide tour on August 3, 2016. The purpose of the tour is to maximize collaboration among GRC, academic leadership, faculty, and local and state resources to improve Ohio's population health and healthcare delivery system.
During the tour, GRC staff meets with the deans, program staff, and Community Health Workers (CHWs) who support MEDTAPP HCA. CHWs are frontline public health workers recruited from the communities in which they serve. They are trained to work in specific settings like maternal and child health, chronic disease, cardiovascular care, or geriatrics in order to serve as liaisons between patients and the health systems in their community.
"CHWs support the patient to be the captain of their own ship by giving them the right tools." Cleveland State University
Recognizing the growing need for creating a diverse workforce and enhancing interprofessional education, Ohio's MEDTAPP HCA prepares current and future health professionals to serve Medicaid beneficiaries and to work in underserved communities. HCA supports healthcare professional recruitment and retention through innovative teaching and training programs that focus on behavioral health, community health workers, interprofessional education, and community‐based experiences to increase access to care for Medicaid and underserved populations.
Ten university partners participate in MEDTAPP HCA. Since its inception in SFY 2012, MEDTAPP HCA has trained and placed providers in specialties such as behavioral health, primary care, geriatrics, and advanced practice nursing.
The 2016 MEDTAPP HCA Tour Schedule:
Wednesday, August 3: (10am-2pm): Cleveland State University
Thursday, August 11: (9am-12pm): Wright State University
Monday, August 29: (10am-2pm): University of Toledo
Thursday, September 1: (11am-2pm): Ohio University
Thursday, September 15: (10:30am-2pm): Kent State University
Wednesday, September 21: (9am-1pm): University of Cincinnati
Thursday, September 22: (9:15am-1:15pm): University of Akron
Friday, September 30: (10am-2pm): Northeast Ohio Medical University
Wednesday, October 5, 2016: (10am-2pm): Case Western Reserve University
Still coordinating schedules: The Ohio State University