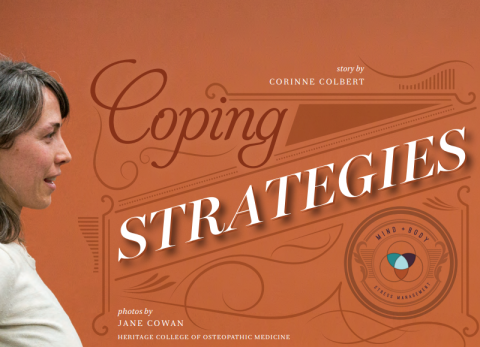 ---
Joe Bianco and Tracy Shaub were worried. It was 2005, and the two faculty members in Ohio University's Heritage College of Osteopathic Medicine were watching their medical residents in the family practice clinic grow increasingly frustrated and burned out from dealing with their largely underserved Appalachian patients.
"The residents were going out of their way to educate them, really trying to help them," says Bianco, assistant professor of social medicine. " And the patients were coming back saying, 'Nah, I didn't do that.' The residents were saying, 'I'm doing all the work; they don't care'—it's demoralizing after a while."
Bianco and Shaub already had noticed that their patients were challenging— not only in a tendency to not take medications or make lifestyle changes, but also in the sheer magnitude of adversity in their personal histories.
Beyond the Classroom
The Integrated Mind-Body Medicine Program has received two Healthcare Access Initiative renewals, giving it funding through June 2017. The project now includes Sue Meeks, R.N., manager of the Heritage College's Family Navigator program. Meeks, who modified Bianco's curriculum for nurses and office staff; Dawn Graham, an assistant professor of social medicine and clinician at Counseling and Psychological Services who conducts mindbody training now that Shaub has moved to the Cleveland campus; and Merri Biechler, a playwright who will use her drama skills to help students and providers improve their communication skills.
Through the Integrated Mind-Body Medicine Program training, everyone from the receptionist to the most senior physician learned how to better cope with their stressful work environment.
Read more in Ohio University Perspectives magazine.