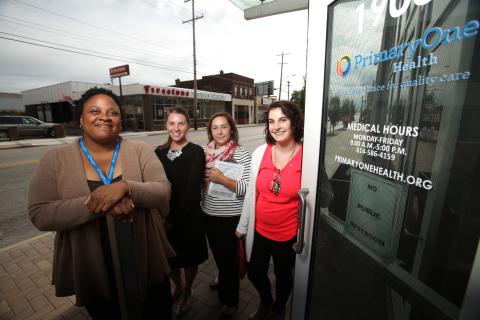 ---
CSW Students in Our Neighborhoods
Grant-funded partnership trains social work students in integrated care
Through the Social Work in Primary Care Behavioral Health Workforce program, 15 to 20 MSW students focused on mental health and substance abuse treatment are selected annually to receive specialized training that includes culturally relevant integrated health care, mental health and social care. The students also learn about the broader policy and practice context surrounding integrated care.
Now in its fifth year, the Social Work in Primary Care Behavioral Health Workforce program is supported by a Medicaid Technical Assistance and Policy Program (MEDTAPP) Healthcare Access Initiative (HCA) grant. Administered by the Ohio Colleges of Medicine Government Resource Center (GRC), HCA supports health care professional recruitment and training programs that focus on behavioral health, community health workers, interprofessional education and community-based experiences to increase access to care for the Medicaid and underserved populations.
Students help develop the big picture for patients at primary care free clinic
Among the projects social work students are implementing is "waiting-room wellness," which takes advantage of patient downtime at the clinic. Using an uptake survey, students determine the services each patient needs - from help determining insurance qualification to finding a primary care provider or taking steps to address mental-health challenges. Some patients need help with food choices to manage chronic disease.