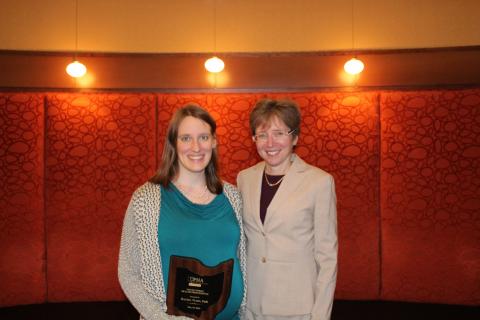 ---
Columbus, OH. – Dr. Rachel Tumin, Survey and Population Health Analyst Manager for the Ohio Colleges of Medicine Government Resource Center (GRC), received high honors from the Ohio Public Health Association (OPHA) for her substantial public health research and health survey work. The OPHA Awards Committee chose Tumin as the Young Public Health Professional of the year. OPHA is a statewide organization that aims to increase awareness for public health issues and enables the optimal health of Ohioans.
"One of my favorite things about my job is that allows me to couple my passion for improving the health of Ohio's at-risk and underserved populations with my research expertise and interests," says Tumin. "I am honored to receive this award from an organization that also values this work."
Among many of her accomplishments, Rachel is currently the Principal Investigator of the Ohio Better Birth Outcomes Prenatal Care Capacity Study, which assesses where Medicaid-enrolled pregnant women living in Franklin County receive their prenatal care, estimates the capacity to provide prenatal care, and identifies gaps in prenatal care access and capacity. Rachel also has extensive experience developing survey questionnaires for telephone and mail surveys, and analyzing complex survey data. She has participated in several iterations of the Ohio Medicaid Assessment Survey, a large telephone survey that examines access to the health system, health status, and health determinant characteristics of Ohio's Medicaid, Medicaid eligible, and non-Medicaid populations.
"Rachel sets a very high standard for providing quality research and data, and we are thrilled that OPHA is recognizing her value to her peers throughout the state," said Lorin Ranbom, GRC Director. "Our organization and the health of Ohio's most vulnerable populations are better because of her dedication and hard work."
"'Rachel's day-to-day work makes a tremendous impact on public health in Ohio," said Dr. Amy Ferketich, nominator and professor in the Division of Epidemiology at the Ohio State University College of Public Health. "You may not see her name regularly in the press, but her efforts behind the scene are substantial and her work allows people like the Directors of Medicaid and Health to do their jobs."
Rachel received her Ph.D. in Epidemiology from The Ohio State University College of Public Health in 2015, and her research interests include survey methodology and questionnaire development, food insecurity and mealtime behaviors, and the health of special populations.
###