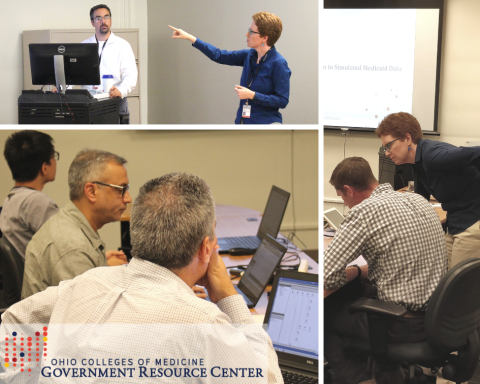 ---
The Ohio Colleges of Medicine Government Resource Center (GRC) is training issue experts on SAS® software using simulated Medicaid data to increase statewide collaboration between state agencies and university faculty on issues like opioid use, infant mortality, and the management of chronic conditions.
GRC's training familiarizes researchers with Medicaid policies governing Medicaid data, and it explores how different simulated Medicaid administrative datasets can be analyzed to enhance the efficiency and effectiveness of state health programs.
Faculty and participants leave the training with the added expertise and confidence needed to better contribute to state health policy and program research.
The trainings are open to researchers and faculty at Ohio's seven colleges of medicine and allied units such as colleges of public health, public policy, and departments of social and behavioral sciences.
Learn more about Ohio's growing network of academic and state health policy partnerships here: http://grc.osu.edu/partnerships