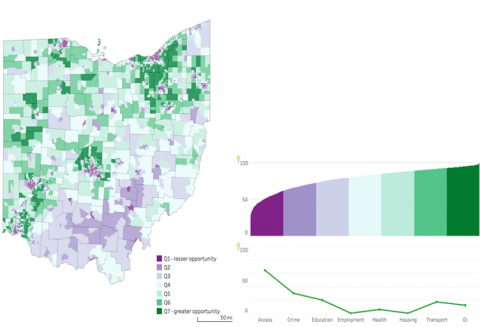 ---
Friday, April 30, 12:00 p.m. to 3:00 p.m. (virtual)
The Ohio State University College of Medicine invites you to a symposium to explore how variables such as income level, education, housing, transportation, crime, food availability and more can be quantified into a neighborhood's health score. These variables (also known as social determinants of health) affect a wide range of health risks and outcomes. Our panel of experts will explore the impact of social determinants of health in Ohio through their work on the Opportunity Index (OI) and Children's Opportunity Index (COI). This symposium will focus on:
The role of social determinants of health in health care
The development of the Opportunity Index and Child Opportunity Index
How the Opportunity Index and Children's Opportunity Index are currently used for decision making
Opportunities to explore relationships between the indices and health outcomes
Networking with researchers and practitioners interested in using the indices
Presenters:
Elisabeth Root, PhD MA, OSU Geography and Epidemiology;
Cindy J. Sieck, PhD MPH, OSU Family and Community Medicine;
Priti Singh, PhD MS, OSU College of Medicine
Pallavi Jonnalagadda, PhD MBBS, OSU College of Medicine
Christine Swoboda, PhD, OSU College of Medicine; and
Jon Barley, PhD, Ohio Department of Medicaid
Moderator/Organizers:
Naleef Fareed, PhD, The Center for the Advancement of Team Science, Analytics, and Systems Thinking (CATALYST)
Lorin Ranbom, Director, The Ohio Colleges of Medicine Government Resource Center (GRC)
Registration will remain open until 12:00 p.m. Friday, April 30. A calendar invite with the zoom meeting link will be sent once registration is complete.